October 27,2020 Wabi Sabi
Oct 27, 2020
Going down a rabbit hole these days, in my life and in my work. I have gotten lost a bit in figuring out whether or not I want to live in my rabbit hole and take the blue pill, or come back out on top and go back to normal preprogrammed life. A friend of mine, who is always, always challenging me, reminded me of this concept the other day while we were watching a video he had chosen and it mentioned the idea of wabi sabi. That set me to thinking and the conversation that ensued was heated and argumentative and worth it. I've been marinating on it since. The concept of wabi sabi comes from Japan and has many meanings these days but revolves around the idea that nothing lasts, nothing is finished and nothing is perfect. It can apply to both natural and man made objects and life itself, if you ask me. I remember a story about master rug weavers in the middle east where they would deliberately make a mistake in the weaving so that they would not appear to be competing with God. Only the master creator is perfect. I can't help but think about the natural object as my own physical self and the man made object as my artistic work. And honestly, I've got a lot of stuff going on in both arenas where it can apply.

This photo is of a wabi sabi piece that incorporates the process called kintsugi which is the " art of precious scars". It incorporates the art of repairing with gold or silver lacquer and understanding the piece is more beautiful for having been broken. I can't help but feel that the same can be true of humans who have gone through accident and disease or relationship disasters. We do have the choice to come through the other side flawed but beautiful in a unique way.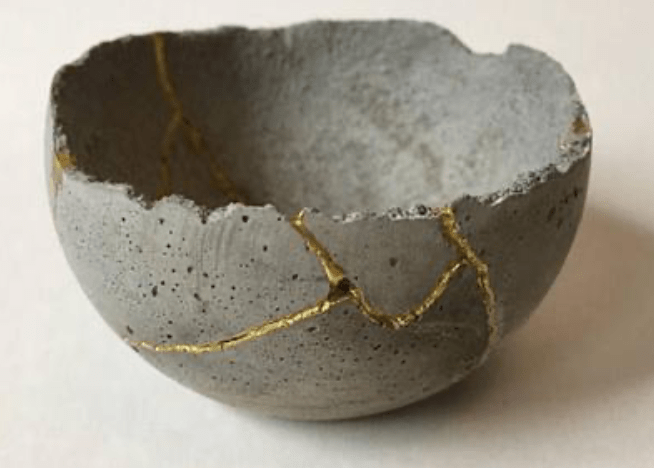 From an engineering or design or artistic point of view, wabi may be interpreted as the imperfect quality of any object, due to inevitable limitations in design and construction/manufacture, especially with respect to unpredictable or changing usage conditions or, need I say, the imperfect hand of the creator. It can be used to refer to those happy accidents and quirky anomalies that happen in the process of making something and add to it's uniqueness as a finished object. Sabi, adds the additional idea of the beauty or serenity that comes with age, the imperfect reliability of an object. Perfectionism is lost on this kind of approach. In the same way, I have been struggling with how to present my work in an original way rather than just stretch the canvas or pop a paper piece into a frame with glass and a matte. I feel the presentation should be as original as the piece itself and not be a separate entity. Just simply stretching the canvas feels like something you can do with a print and, albeit not inexpensively, is simply common. My approach in looking for solutions comes out of an understanding of how I actually work, not just to make a problem where none exist. I do not like working on a stretched canvas. There is kind of a trampoline quality that when I put brush, or hand or any tool on the canvas there is nothing solid behind it. It bounces. I tend to push hard and scrape and sand and mark which just cannot be accomplished unless the canvas is stapled to my studio wall or I work on a harder surface like masonite. I paint edge to edge rather than leaving a portion of the canvas unsullied around the outside so that the piece can be stretched easily and not lose the composition or important marks. I'm loving the raw edges and the staple marks and the way in which you can actually sense the imperfect hand of the artist. I don't want to lose that imperfection and beauty. I have a few ideas and have been researching solutions, but several problems have presented themselves.
1. Client expectation and aesthetic: People are uncomfortable with that which they aren't familiar.
2. .Cost: The usual solutions seem to be the least expensive.
3. Resourcing craftsmen willing to try unusual solutions and to do it affordably.
So far, I have tried a few possibilities. This first one is a picture of a canvas of mine that has been hand stitched onto another canvas leaving a border around the piece almost like a matte. Then the secondary under canvas was stretched onto a gallery depth stretcher bar. I love the look. It keeps the hand made edge in play and still leaves the client an easy pop on the wall solution. The problem is that it is expensive.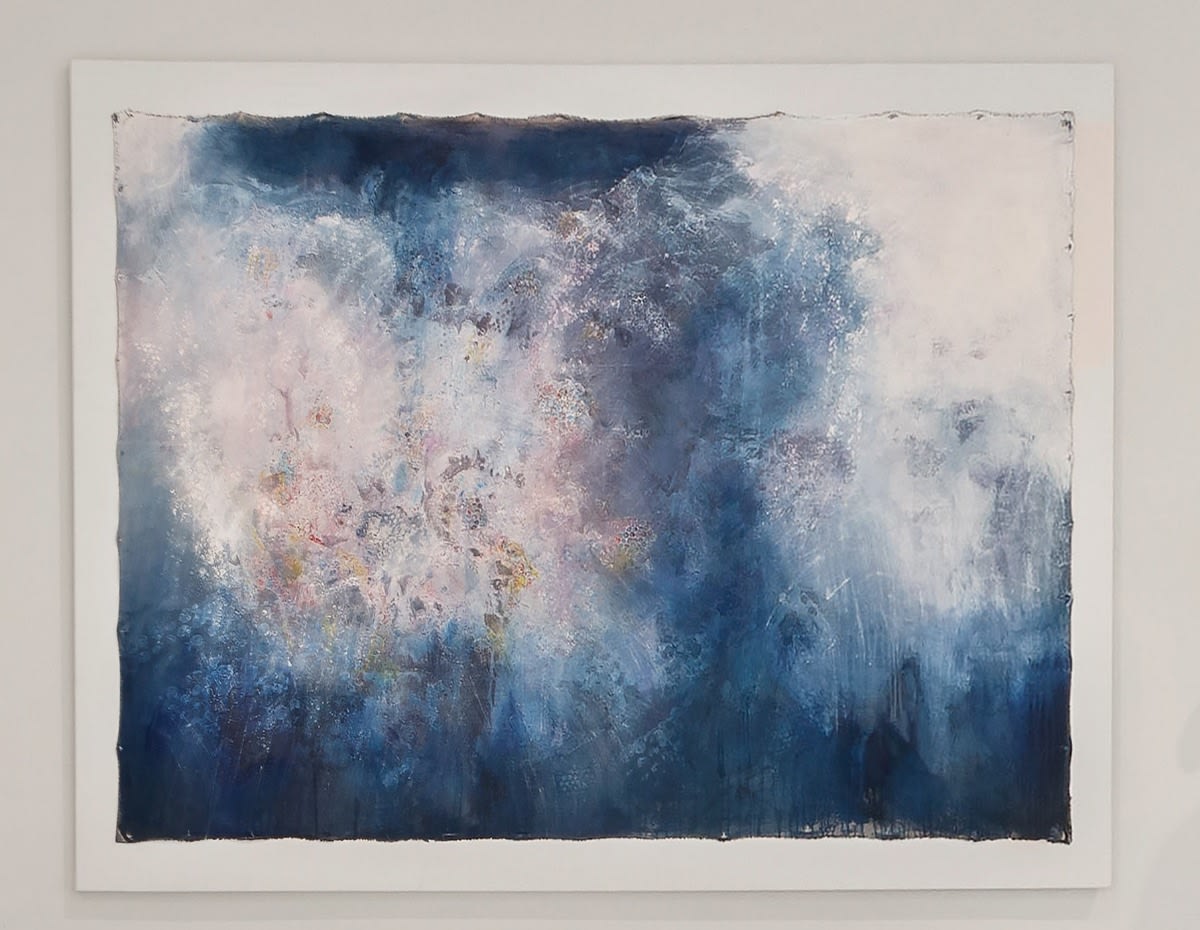 Paying someone to hand stitch this was time consuming and also involved a second canvas. So may not be replicated despite the way it pleases me unless I can figure out how to do the stitching myself. This was done with fishing line and then glued to the other canvas underneath. .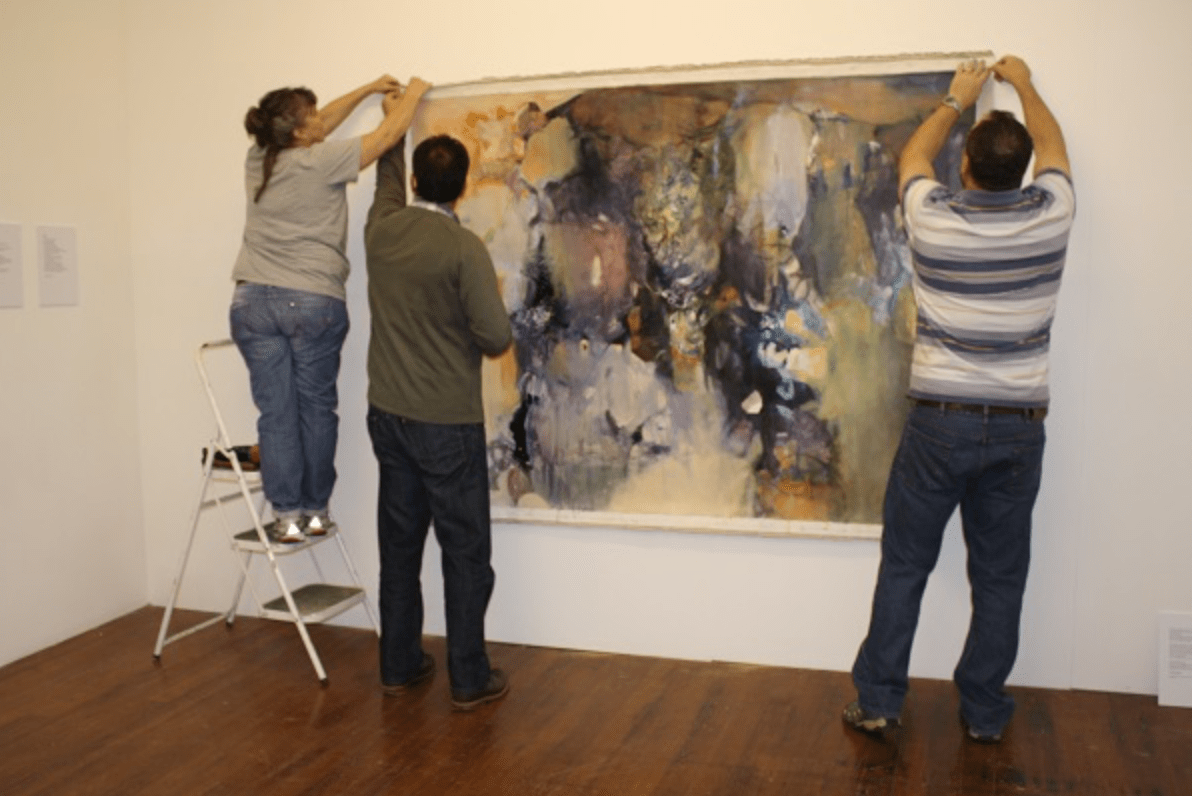 My second thought is to hang with magnets, no frame, no mounting of any kind. I love this look too. Cost isn't bad, but takes a professional installer to hang in order to keep it straight and mount all the magnets. This is not a simple happy hands at home solution,

but it is clean and simple. However, not something collectors are familiar with so unless I use it to present a group of pieces at a show, it's not likely to be easy to convince someone to do this. This piece has a border around the edges to define it, which mine would not.
Now, I am exploring mounting. Glueing the canvas onto a panel made of some kind of stiff material like masonite board, museum board or plywood. I found a craftsman here in Los Angeles who does mounting for framers. .
We are testing a canvas to see if we can make it stick well enough. He is 95% positive it will work. So we are leaving the panel back just a bit from the edges, as they are somewhat irregular which allows me to still have that bespoke hand made edge that I love. Once that is done, I will have a framer mount this panel into a floating frame. My fingers are crossed that this is going to work. Now that I have two craftspeople on board, it will be only fractionally more expensive than stretching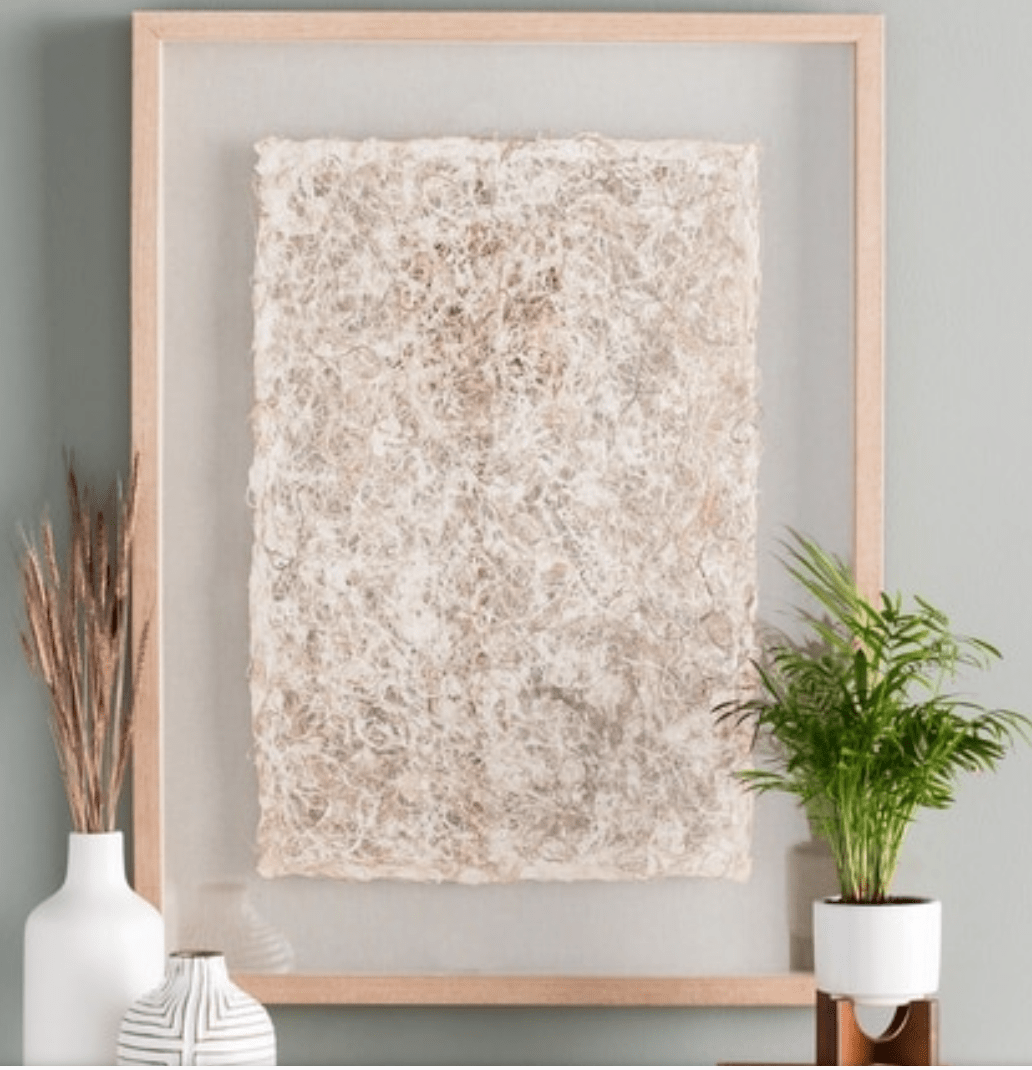 and then framing. The other positive is that it will look like something most people will be familiar seeing in their homes. I have been all over Los Angeles trying to find solutions. Most framers just kind of look at me like I'm crazy and won't touch it, or it's twice as expensive. At least with these guys, I think I've cracked this particular nut.

My last option, which I will try in couple of weeks, came about from a serendipitous conversation with an art restoration company here in Los Angeles. We are going to try mounting a canvas on linen. They do it quite often when repairing vintage paintings and posters. It's a big business here in LA and also in NYC for vintage theater posters for example. They are moving into a new space so it will be a couple of weeks before we can get together. I am planning on taking a smaller piece over to test. After that I may add the hand stitching if I feel it's necessary. Or…another rabbit hole…attempting to glue the edges of the painting onto a flat frame so it becomes organic to the piece. Actually looking forward to trying that one as well. This may add the depth I seek and keep it organic to the overall look of the piece. Can't wait.